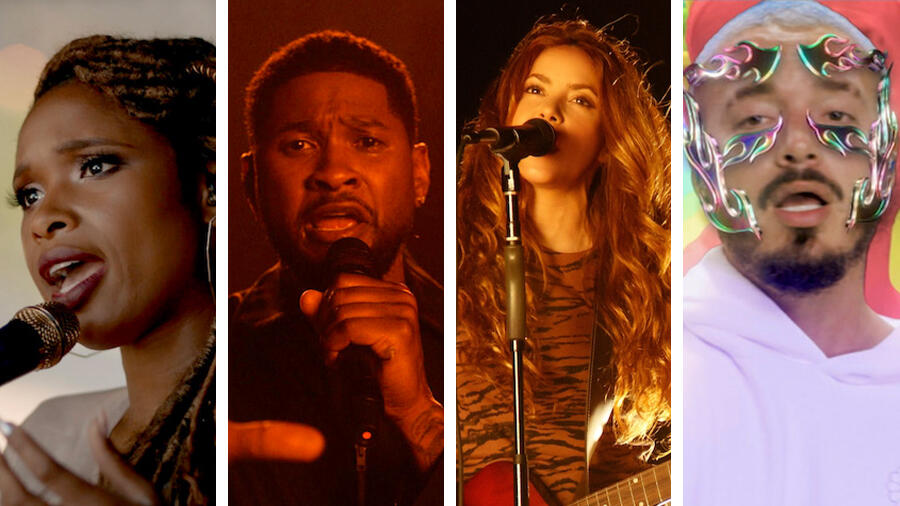 Some of the biggest artists in the world came together for Global Citizen's "Global Goal: Unite for Our Future — The Concert" on Saturday, June 27th.
The star-studded concert included performances from artists Miley Cyrus, Justin Bieber and Quavo, Coldplay, Shakira, Usher, Chloe X Halle, Christine and the Queens, J Balvin, Jennifer Hudson and Yemi Alade. The event also featured appearances from celebrities including Antoni Porowski, Billy Porter, Charlize Theron, Chris Rock, David Beckham, Hugh Jackman, Ken Jeong, Kerry Washington, Olivia Coleman, Opal Tometi and more.
The 2020 "Global Goal: Unite for Our Future" aimed to highlight the disproportionate impact that the coronavirus pandemic has had on marginalized communities, including people of color, people living in extreme poverty, and others facing discrimination.
Take a look below at all of the must-see moments from the show.
Jennifer Hudson opened the show with a beautiful performance of 'Where Peaceful Water Flows.'
The For Love Choir performed a brilliant cover of Beyoncé's 'Freedom.'
Miley Cyrus dedicated her performance of 'Help!' to everyone who is working tirelessly for testing, treatments and vaccines.
Naomi Campbell pushes us to all to come together for a better future.
Charlize Theron dedicated a big thank you to all those watching to support the Global Goal campaign and to the leaders donating to help create and distribute a vaccine.
Jimmy Fallon, The Roots, Lin-Manuel Miranda and the original cast of Hamilton performed 'Helpless' together.
Usher performed his heartfelt song 'I Cry' for the first time.
David Beckham spoke of the global citizens around the world who have used their voices to call on world leaders to fund critical research and vaccine development for COVID-19.
Shakira performed 'Sale el Sol' because the sun should come out for everyone after hard times.
Billy Porter calls on all of us to keep pushing for justice.
Justin Bieber and Quavo performed an incredible piano version of 'Intentions'.
Coldplay dedicates their beautiful performance of 'Paradise' to Elijah McClain.
Nikolaj Coster Waldau gets candid about the pandemic and how, in order to save our planet, we must not return to the ways of the past.
Christine and the Queens performing 'La Vita Nuova' is everything.
J Balvin gave us a vivid performance of Que Calor and Mi Gente.
Chloe X Halle blessed us with a breathtaking performance of 'Rest of Your Life' from their new album.